The 3rd - 5th graders enjoying the school forest this morning.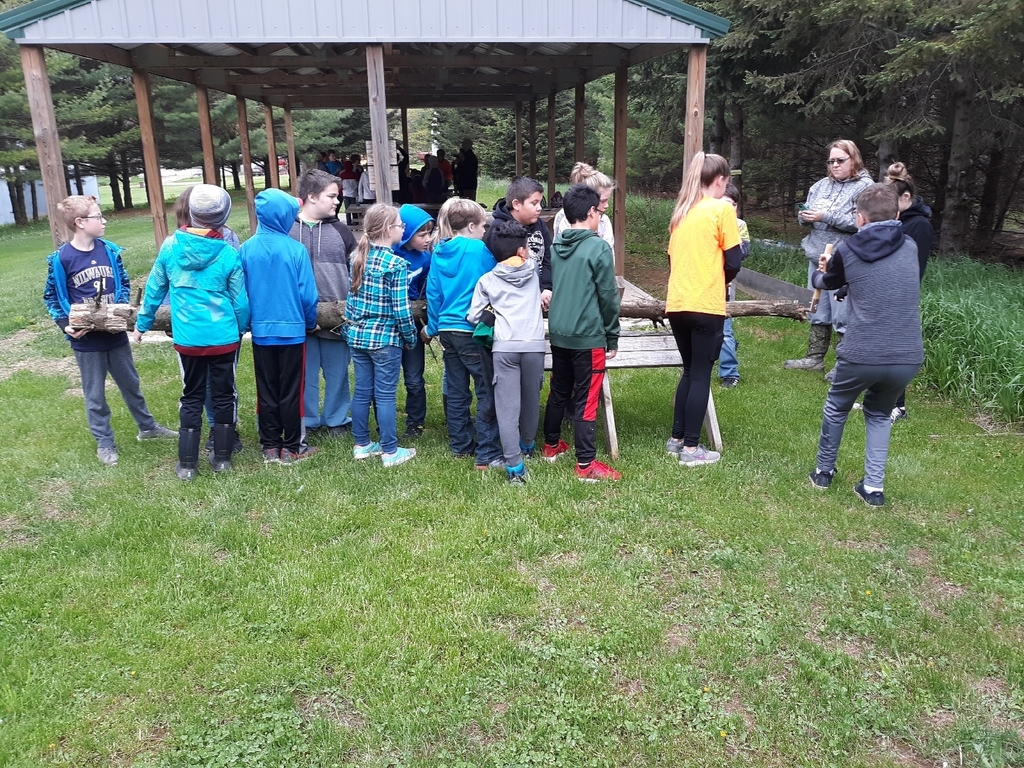 Seniors! As you pave your way to the future, consider helping your school pave the new patio. Personalized bricks can be purchased to honor your transition from graduate to alumnus. Personalized bricks from That's My Brick are once again being sold to help fund the student patio and beautify the school grounds. Anyone can purchase a brick, for just about any reason: Class spirit, as a memorial, groups, clubs, advertisement, family pride/heritage, etc. Patio construction will begin this summer. Orders can be placed at
https://www.thatsmybrick.com/ithacawi
. Order deadline date is May 31, 2019. Questions? Contact Jenna Wipperfurth at Ithaca Schools 585-2311 or
jenna.wipperfurth@ithaca.k12.wi.us
.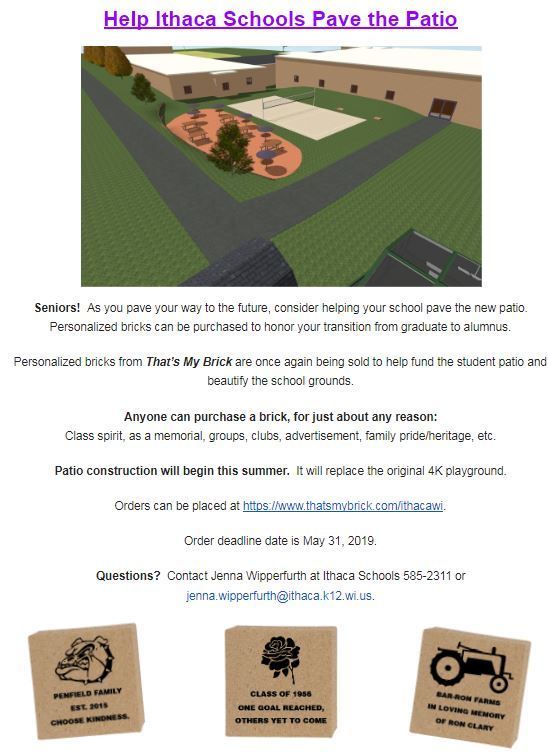 High School Band Students: Please be here at 6:15 am tomorrow for your trip to Mall of America.
Next week our upper (high school) gym will be a construction zone. Starting Monday, May 20 there will be a team here replacing lights. Please stay out of the gym. We want everyone to be safe.
All sophomores please return your permission slips to Ms. Sprecher by Friday, May 17 for the field trip on May 21.
Band students: Your summer band lesson forms are due on Friday, May 17.
There will be an informational meeting for high school students interested in playing football at lunch on Monday May 20 in Mr. Thome's room. All interested players should attend.
Attention Elementary students and teachers! The winner of the 2018-2019 Boxtops and Milkcaps collection is......the 5th grade with 5,410! You will receive a party of your choice from the PTSO. Coming in second place this year was the 1st grade with 3,601! Thank you to everyone in our community - we collected approximately 20,000 caps and labels this year raising about $1500 for our school! The Milk Moola program has ended, but keep saving Boxtops, Tyson, and Village Hearth labels this summer. Thank you for your support of the Ithaca PTSO.
Seniors: If you would like to help with the planning for your Baccalaureate Ceremony, please meet in Mrs. Wontor's room Tuesday, May 21st during lunch.
After learning about Wisconsin culture throughout the year, 4th graders took a trip to the Wisconsin Capital building and the Wisconsin Historical Museum. Students got a tour of the Capital complete with the Governor's Office, had their picture taken in the rotunda, and were shown what it may have been like to live in other times of our state's history while at the museum. Senator Marklein shared our photo with his constituents in his weekly update.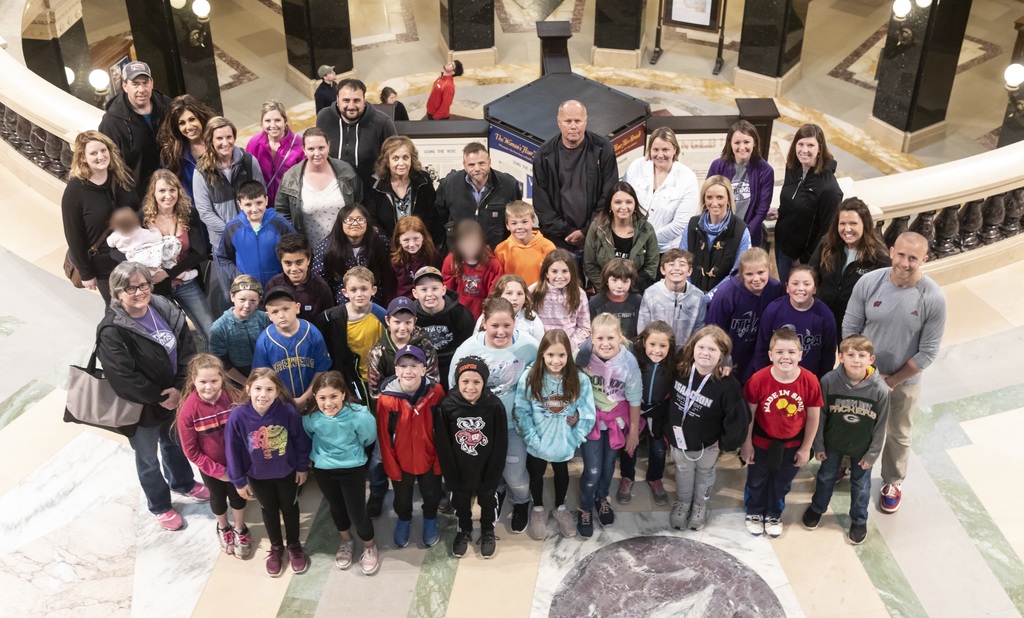 SUMMER FOOD - SUMMER FUN! Healthy meals for kids and teens. FREE! No need to sign up or apply - just show up and enjoy! Nearest Location is: Jefferson Elementary, 586 N. Main St., Richland Center, WI 53581 TIME: Breakfast will be served June 17th - 28th and August 5th - 16th from 7:30 a.m. to 8:15 a.m. Lunch will be served June 17th - August 16th, except the 4th of July from 11:30 a.m. to 12:30 p.m. Contact: Nellie Tyl, Richland SD Food Service Director, 608-647-6063 More Info: wisummerfood.org or call 211 Text: 'food' to 877-877 for meals near you. This institution is an equal opportunity provider.

It is always great to recognize honor students, of any era. Today we go back in the archives of the Richland Observer for today's Throwback Thursday picture. In what year was this picture published? A. 1968, B. 1970, C. 1972 or D. 1974
Because of the construction in the High School gym, the Spring Elementary Concert will be held in the old gym on next Tuesday May 21st. Seating has already been discussed and accounted for. Students will perform on the stage and will sit near the stage. Extra seating will be provided along with the bleachers on both sides of the gym. If you have any questions or concerns feel free to reach out to Mr. Braatz.
It's still here! The Scholastic BOGO (Buy One-Get One) Book Fair is here until Friday in the LMC. Come shop from 7:30am-4:00pm. For every book you buy, you will get a book of equal or less value for FREE. Come stock up on books for summer reading at the BOGO Book Fair!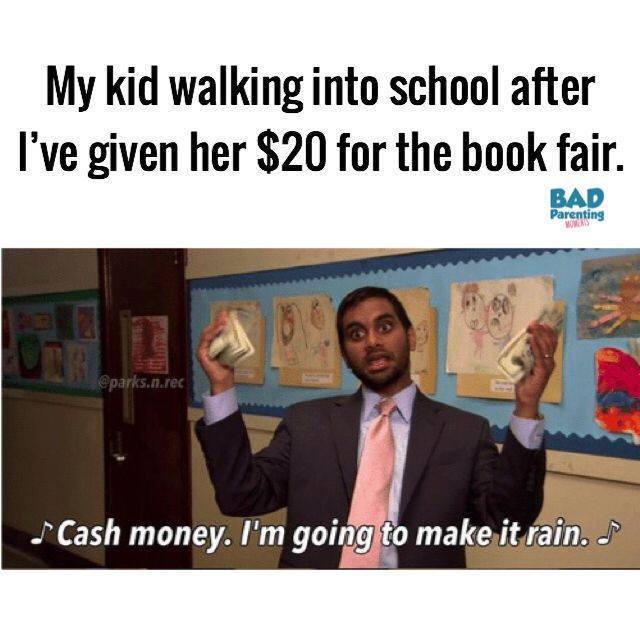 Do you have any library books at home? Search your room, book bag, book shelves for any that might belong to the school library. THEN..... If you have all your library books turned in and would like to check out twelve books to read over the summer, ask your parents to sign the permission form that the library sent home with your child. Bring the form back to the library (the form is available on the News tab of our website also) and check out your books for the summer. Simply return the books when school begins again in September. Happy reading!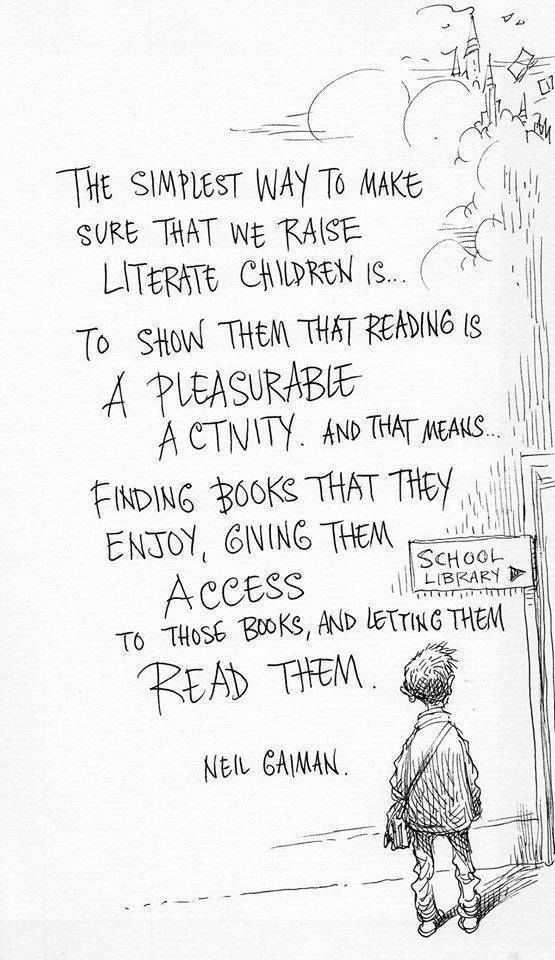 Attn students in grades 3-12: The last PTSO game club night of the school year will be Thursday, May 16. Meet immediately after school in the commons for a healthy snack then we will go down to the multi-purpose room. Elementary students please return your permission slip to your teacher by next Tuesday, May 14.
All sophomores please return your permission slips to Ms. Sprecher by Friday, May 17 for the field trip on May 21.
Band students: Your summer band lesson forms are due on Friday, May 17.
All middle & high school students are welcome to join us for our end of the year FCA Huddle! Tomorrow morning- 7:00am. A hot breakfast is served, along with a devotion to get your day started. We also share a motivating message to encourage you. This is the final Huddle before summer break...we hope to see you Thursday morning in the FACE room! Bring a friend!
The final PTSO meeting for the year will be held today at 3:30 p.m. in the LMC. Babysitting will be provided. We hope to see you there!