FYI: Monday's winner of $50 in the Band Parent's Raffle was Mrs. Schoen, with ticket #338.

Throwback Thursday is now just 2 days away! We will share a picture of Ithaca past and have you guess the year of the photo. We look forward to discussing Ithaca memories this Thursday!

Choir Students who sold fruit: Due to the poor quality of the clementines last weekend, our supplier will be replacing all of the clementine orders at no additional cost to you or your customers. If everything goes well, Tuesday, December 18th, we will be able to replace your clementines. Please take this new product and deliver it to those customers that placed orders with you. Feel free to throw out the old ones that are of poor quality. We sincerely apologize for the inconvenience this has caused. Rest assured, however, that we will always strive for quality fruit to support your fundraising and are pleased that our supplier stands behind a quality product as well. Ithaca Choir Boosters
Don't forget: all of our Ridge and Valley WIAA sports can be found on the link under SPORTS on the middle and high school pages on our websites. They also have their own APP that can be downloaded to stay up to the minute!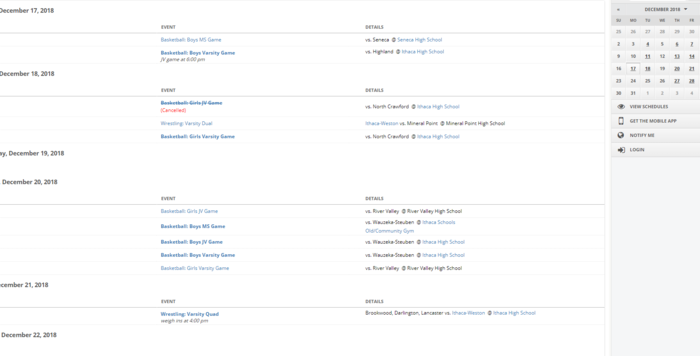 Please come out to support the High School Boys' and Girls' Basketball teams when they host a Culvers share night on December 26th from 4-8 PM at the Richland Center Culvers.
Please note: Tomorrow is the second day of Christmas dress up and all in Ithaca are invited to wear Christmas colors or Christmas patterns. Show us all your fashion flare from shirts to pants and socks!
FYI: The weekend winners in the Band Parent's Calendar Raffle were Becca Keller - $75, Marj Willis - $50, and Sharon Long - $75.
For the Five Days of Christmas, the Ithaca students and staff dressed up in holiday cheer.... Monday kicks off our week of holiday fun with Holiday Hat Day. Wear your favorite holiday hat, like a Santa hat, elf hat, character hat. We can't wait to see your creativity!!!
Choir students make sure to pick up your fruit from the annual fruit sale Saturday at Oakwood Fruit Farm from 8:00-10:30. Students must pick up by 10:30 Saturday morning.
Reminder! We have a way to report incidents/concerns... SAFE ALERT This system allows you to quickly, easily, and anonymously report safety concerns to school officials 24/7/365. Help us create a safer learning environment - to submit a tip, please click on the link:
https://ithaca-wi.safeschoolsalert.com/
Reminder to elementary students/parents: Please bring your Elf Shop money for next week's holiday shopping.
FYI: Thursday's winner of $50 in the Band Parent's Calendar Raffle was Becky Durst, with ticket #251.
In Level II Painting, the students can pick a class and paint a ceiling tile as "a gift" to that class. Andrew Mueller chose to do a Paw Patrol tile and present it to the 4-K classroom. :)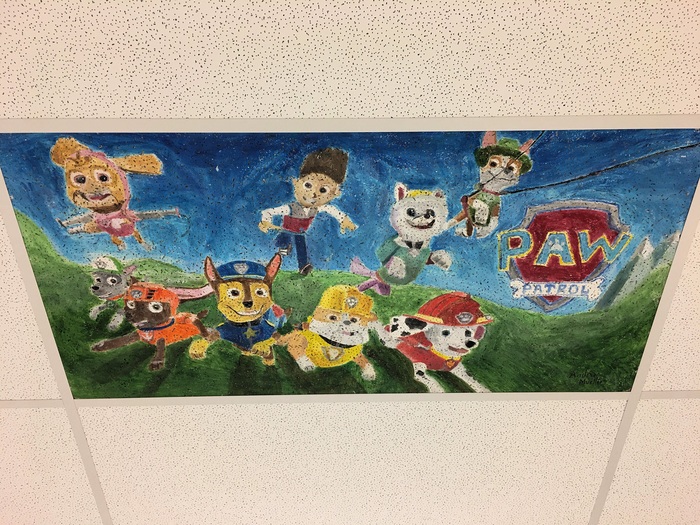 Notice to elementary parents: Tomorrow is the day we go to the School Forest. Please send children in appropriate attire. Hats, gloves, coats, snow pants, and boots. If you are unable to provide these items please let the teacher know ASAP. Otherwise, children that are not dressed appropriately will not be attending the school forest.
FYI: Wednesday's winner of $100 in the Band Parent's Calendar Raffle was Stacie Roen, with ticket #685.

Ithaca has a PLC Day today which means an early release for students. School will release at 1:10 pm this afternoon.

It's once again time for our Throwback Thursday memory. This group of seniors gathered money and food donations for Passages as part of the annual Ithaca Food Drive. What year did this group graduate?....and GO! (See it on Twitter, Facebook and on our APP and website LIVE FEED)
Notice! Tonight's middle school basketball practice is cancelled.