Calling all crafters! And those who have rummage items to sell. Ithaca Horse Club is having a "Rent-A-Table" Event on Saturday, May 4, from 8am-1pm in the Community Gym. For $25, you can display your wares. Concessions by the Horse Club will be available. Set up will be Friday, May 3, from 6-8pm or Saturday beginning at 7AM.
Reminder to Band Students and Parents: There will be an informational meeting about the 2020 Band Trip to Florida on Sunday, April 14th at 2:00 pm in the Commons. All band students going on the trip, including parents, should plan to attend.
Saturday Track Change! "Due to the current conditions at our track and the forecast for tonight/tomorrow, we will have to cancel our meet. We will not be able to reschedule due to how full the rest of our schedule is."
Due to wet grounds and cold conditions, the Ithaca baseball tournament has been cancelled. This tournament was scheduled for this Saturday April 13, 2019.
Melanie Lendosky is an area mom whose daughter found a great outlet that builds confidence and enhances strengths. Read her story, and watch their group tomorrow! My daughter started playing wheelchair basketball this last fall/winter. She was born with Spina Bifida. The program has made such a difference in her self-confidence and also physically. Because of this, I am trying to get the word out to other families with disabled children and also to special ed directors/teachers etc. I hope it is ok that I went to the contacts that I have made at school districts because you know kids or at least special ed directors/teachers or maybe even families affected. The team she is playing for is the Mad City Badgers. They put on demonstration by scrimmaging the varsity teams of school districts. As part of the demonstration, the coach also includes disability awareness. We are putting on a demonstration this Saturday from 4-8 pm at Hillsboro high school. You can also find out more information on their facebook page, Mad City Wheelchair sports.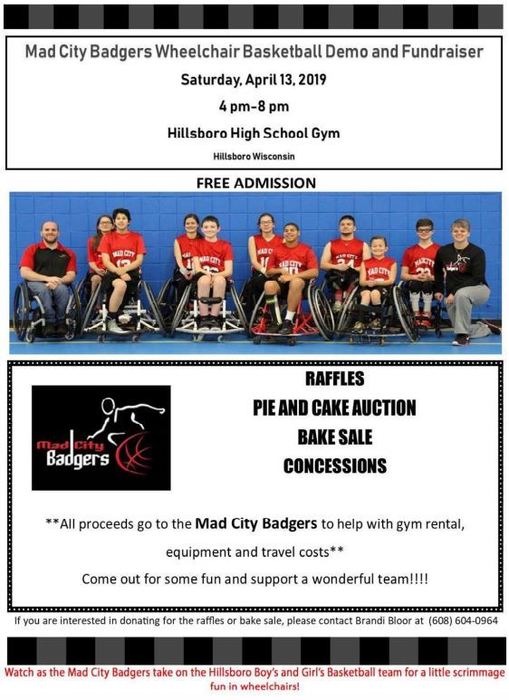 April 7-13 is National Volunteer Week. At this time, we would like to take the opportunity to thank the many dedicated volunteers within the Ithaca Community who have served others, especially our children. We value the ideas, time, and effort you have put forth to make our school a wonderful place to learn and grow. You are valued and we are glad we can depend on you to answer the call to help whenever needed. Thank you all for your enthusiasm, your generosity, and for being an inspiration to the youth in our community. Sincerely, the Ithaca PTSO
Forensics Students: Good Luck at State tomorrow! Meet in the commons at 8:00 a.m. Dress for chilly weather and bring money for lunch on the way back. We will return at 2:30 or 3:00.
Good luck to Ilana Bloczynski, Maggie Gschwind, Holly King, Tristen Peterson, Trista Pluemer, and Xander Sorenson who will be participating at the state Destination Imagination competition tomorrow at UW-Green Bay.
Good luck to John Clary, Anna Dahlke, Lincoln Manning, and Kyla Pluemer who will be participating in the state "You Be the Chemist" competition tomorrow at UW-Madison.
Our JV game with Royall tomorrow has been postponed. We will try to reschedule the game.
Middle school track parents, With the extra time added to the end of school we have determined that having practice from 3:40 – 5:00 does not allow us enough time to condition nor properly coach the athletes in their specific event(s). Starting Monday, April 15th, we are asking to extend practice an additional half hour. We will be done such that you may pick up your athlete at 5:30. Naturally, if this creates a conflict we will adjust for the individual family's situation. If you have any questions you may either call me at 608-585-2512 or email me at
tripdav@ithaca.k12.wi.us
. Thank you for your support Coach Triphan
TONIGHT's baseball and softball games have been postponed. A makeup date has not been planned as of now.
Tomorrow's scheduled softball game at Seneca is postponed to May 7th at Seneca starting at 5:00pm.
If you are detail-oriented, can use basic computer programs and are organized, AND looking for a long-term job, stop in to Ms Schoen. Local company is looking for an individual with these skills/traits.
The deadline to order Middle School and Elementary yearbooks has been extended two days, Thurs, April 11th and Friday, April 12th. Last chance for Middle School Yearbooks. You can order two ways. Online at
www.entourageyearbooks.com
or pick up a form in the office.
Congratulations to McKenna Muckler on being accepted to UW-Platteville's Health Career Camp this summer! McKenna was one of the 30 people selected out of 80 applicants to attend this camp. Way to go McKenna!

Our Throwback Thursday photo goes back to a time when "Middle School" was known as "Junior High". And we focus on the often underrated Junior High Football team. In which yearbook was this photograph printed? A. 1976, B. 1978, C. 1980, D. 1982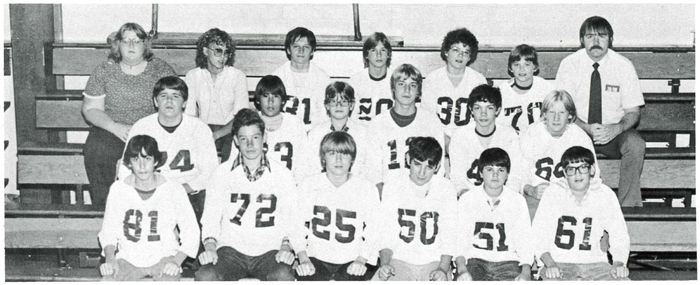 The annual K-12 Ithaca Art Show will be Tuesday, April 30th in the Ithaca Commons from 3:30pm until the time of the band concert. Art work from all grades will be on display in the commons up until the time of the Spring Band Concert.
Junior Class: There will be a Jr. Class meeting on Friday during Attack time in the Band Room.
There will be a popcorn sale this Friday, April 12. Cost is 50 cents a bag limit 2 bags per student. Proceeds this week will go to the 1st grade class!