Class of 2026 and families: Jostens is scheduled to meet with the Freshmen Class on Friday, September 30th @ 11:20 a.m. regarding the Ithaca HS class ring program. Please click on the link below to design your ring on the RING DESIGNER. Design & order your ring between September 30th and October 14th to receive $20 off your ring using promo code RING20. (Tradewinds, P11, P12, P30, P31 not included). A ring sizer is included in the packet. Rings will ship home in approximately 6-8 weeks with payment programs available. QUESTIONS? 1-800-854-7464 or EMAIL:
www.jostens.com/contact
Click Here to Access Ithaca High School Online Ring Builder -
https://www.jostens.com/apps/store/productBrowse/1116349/ITHACA-HIGH-SCHOOL/Class-Jewelry/2006071011045564036/CATALOG_JRD

The Class of 2023 and Advisors would like to send a huge thank you to the following: ~Ithaca Parents, Guardians, and Community Members for making the 100th school fair and Homecoming 2022 a memorable one. ~WRCO for advertising/promoting all the events that happened on Saturday. ~Ithaca Staff Members for being flexible and willing to help when and where needed. ~Mr. Deitelhoff for volunteering his time to help chaperone the dance on Saturday night. ~Mrs. Steinmetz and Mrs. Penfield for helping us decorate the Commons. ~Frank, Ben, Tom, and Sue for their additional hard work over the weekend. ~Mr. Hess and Mrs. Thompson for updating the Ithaca app and Facebook page to keep everyone in the know. A special thank you to the members of the class of 2023 that helped set up and tear down the dance quickly and efficiently.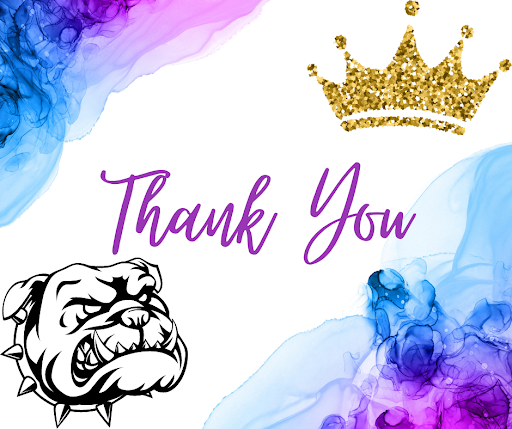 Learners Today, Leaders Tomorrow ANNOUNCEMENTS: Sept 27, 2022 Today is a Day 1 Lunch for today: First choice- Hamburger gravy/mashed potatoes, Second choice- BBQ Rib/sub bun, Spinach salad, Breadsticks, and milk Congratulations to the Ithaca student body for your excellent representation and attitude last week during homecoming week! The student council would like to congratulate all the classes for participating in the spirit week activities and point totals. Before announcing the overall winners for homecoming week, many were curious about who won the floats so the order goes ...4th place to the freshmen, 3rd place to the seniors, 2nd place to the sophomores, and 1st place to the juniors. Each class point totals were tallied yesterday for the final count. In 4th place overall with 36 points was the freshmen and the juniors in 3rd place with 75 points. The sophomores had a total of 102 points in 2nd place and rounding out the week with a total of 115 points was the senior class. Congratulations to all the classes and the seniors will receive a pizza party for winning the most points. NOTICE TO THOSE ON FREE OR REDUCED LUNCHES LAST YEAR: You have through October 1 to re-apply for the program. If you have not applied by October 1, it will be assumed you plan on paying the lunch fee starting Monday, October 3. If you apply and qualify, the reduced price is $.30 per day for breakfast and $.40 per day for lunch. This Day in History: On September 27, 1938, President Franklin Roosevelt writes to German Chancellor Adolf Hitler regarding the threat of war in Europe. The German chancellor had been threatening to invade the Sudetenland of Czechoslovakia and, in the letter, his second to Hitler in as many days, Roosevelt reiterated the need to find a peaceful resolution to the issue. Word of the Day: Sporadic-adjective Something described as sporadic occurs occasionally, irregularly, or randomly across time or space. The team's regular meetings became sporadic over the summer months, when at some points up to half of its members were on vacation. Birthdays: Elementary— Belated to Briggs Maxwell and John Weitzel on Mon (09/26), today Cameron Beasley H.S./M.S.—Magdalene Gwchwind, James Layton Ithaca After-School Events: Volleyball: Girls Varsity vs. La Farge (Home) Volleyball: Girls Varsity vs. Weston (Home)

Popcorn Fridays are back! This week the 2nd grade classes of Ms. Brewer and Mrs. Steinmetz are hosting. Still 50 cents a bag, limit 2 per child. Here is the list of all the Popcorn Fridays for the year.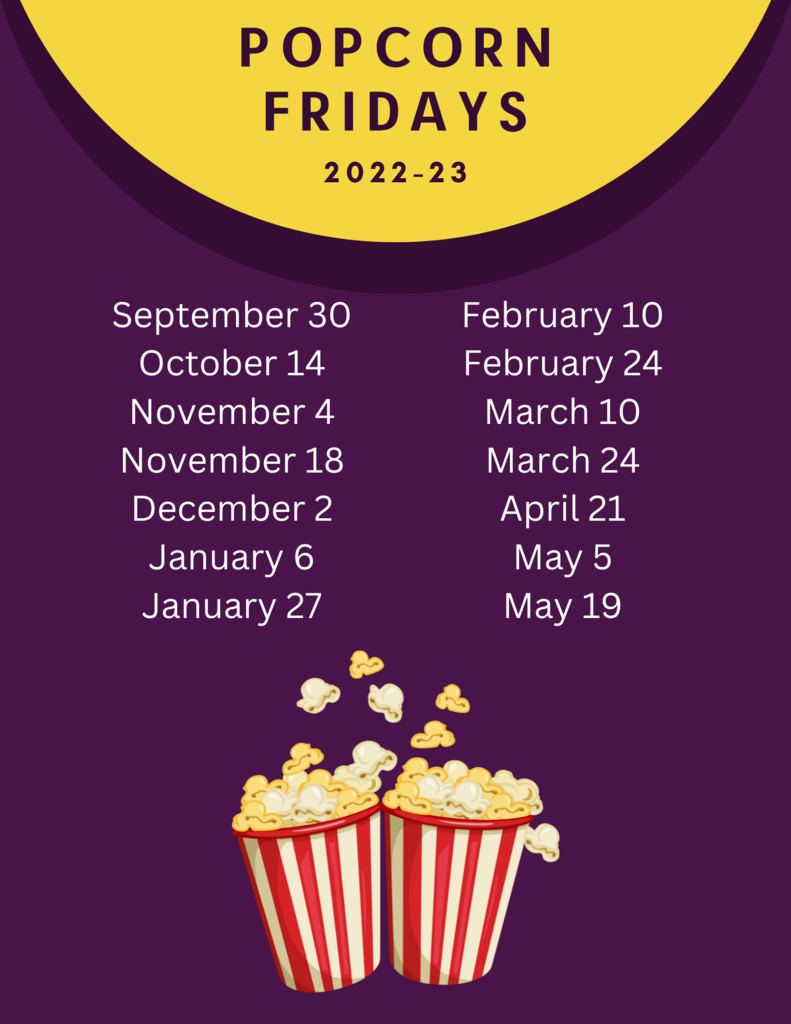 Leah, an Ithaca 3rd grader, drew pictures and sold them at the Ithaca School Fair. Her goal was to donate all of her funds to the PTSO. This young lady saw our district nurse trying to raise money to replace the cost of the new AED and to purchase other medical supplies. She resided $54 and decided to split her donation. She donated $10 to the Ithaca PTSO and $45 to the District Nurse AED fund! Thank you so much Leah! Way to be a Bulldog!!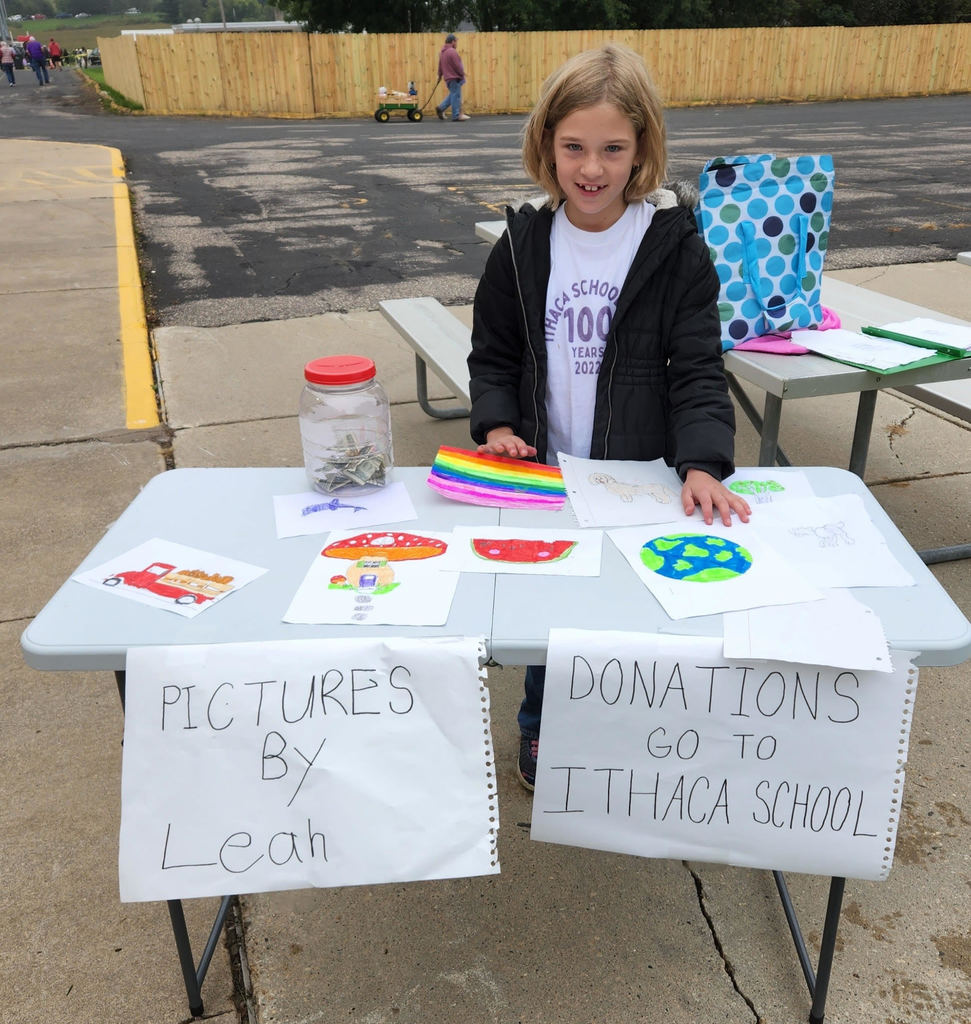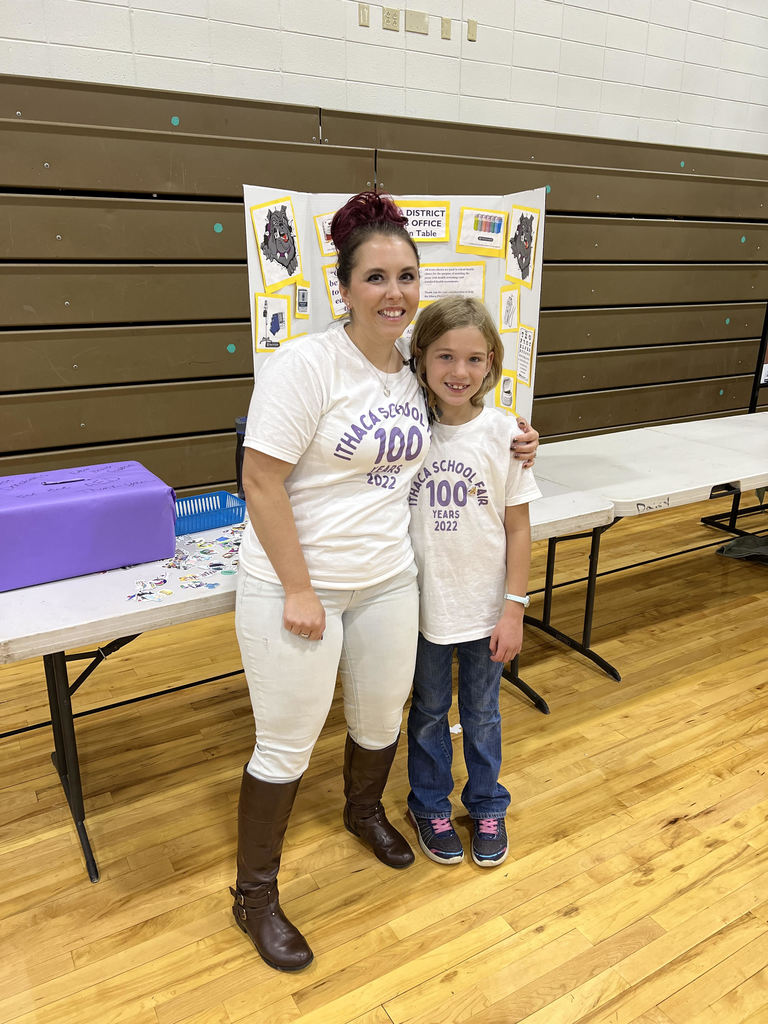 You may have thought the festivities are over, but wait! The Ithaca Fair Horse Show is next Sunday! Stop in to watch or participate in the Ithaca Horse Show at the Anderson Quarter Horse Farm Sunday, October 2nd.

We're still glowing with pride from the successes of the 100th Ithaca School Fair. What a weekend! The Ithaca Fair Committee would like to thank all our sponsors for our 100th Ithaca Fair! We'd like to add Greeley Signs & Graphics, Robert Bowers, Vince and Betsy Wiedenfeld, and Manneo Dairy, LLC to the list of donors!


The grounds are ready. The exhibits are ready. You'd better be ready…to celebrate the 100th Ithaca School Fair and the 2022 Homecoming! Too much to list. There's something for everyone! Come and join in the celebration and fun. See you here!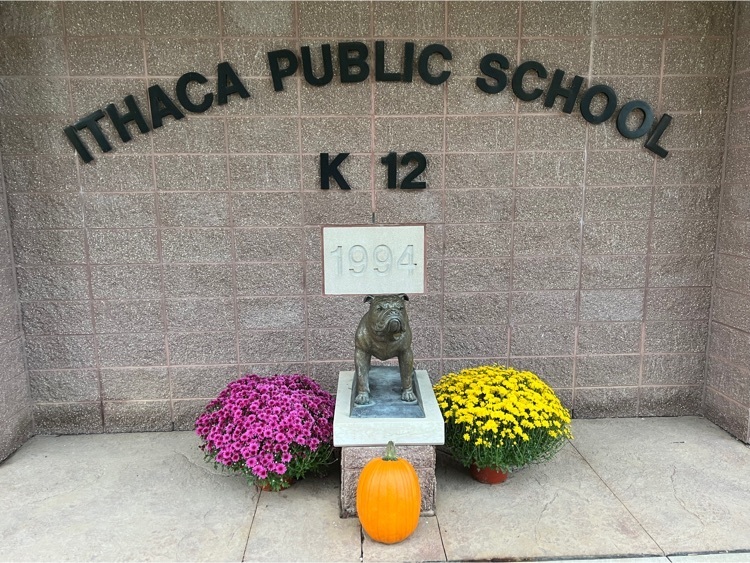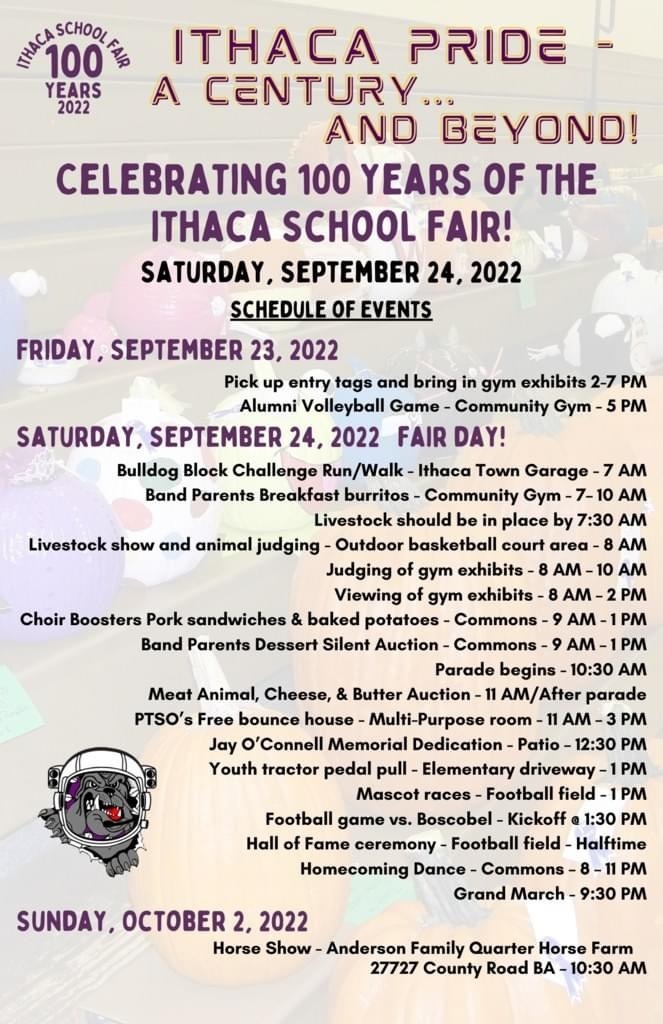 For apparel purchases through the PTSO at Homecoming, a debit / credit card reader will be available. So, you will be able to use cash, check or card! Happy Homecoming Everyone!


Who's ready for the greatest event of the year?! Many, many thanks to all our donors who have helped make these events possible! Today kicks off activities for the 100th Ithaca School Fair! Fair entries can be dropped off until 7p. Stop in to the Community Gym to watch some Ithaca alumna play volleyball beginning at 5p. Saturday is FAIR DAY! The Bulldog Block Challenge starts at 7a. Breakfast is served in the Community Gym by the Band Boosters from 7-10a. Animals should be in place by 7:30a. The livestock show, animal, and gym fair exhibits begin judging at 8am All exhibits are available for viewing at 8am. Grab lunch from the Choir Boosters in the HS Commons from 9a-1p. Band Boosters have a dessert auction in the HS Commons 9a-1p. At 10:30 the parade kicks off, followed by the meat animal, cheese, and butter auction. Check out the PTSO's free bounce house from 11a-3p in the MultiPurpose Room. The Jay O'Connell Memorial Patio dedication at 12:30p, and at 1p the youth pedal pull begins. Mascot races at 1p lead into the football game kickoff at 1:30p. The Hall of Fame ceremony will occur at halftime during the football game. Then don't forget the Ithaca Horse Show finalizes all things Ithaca Fair on Sunday, October 2nd at the Anderson Quarter Horse Farm beginning at 10:30a.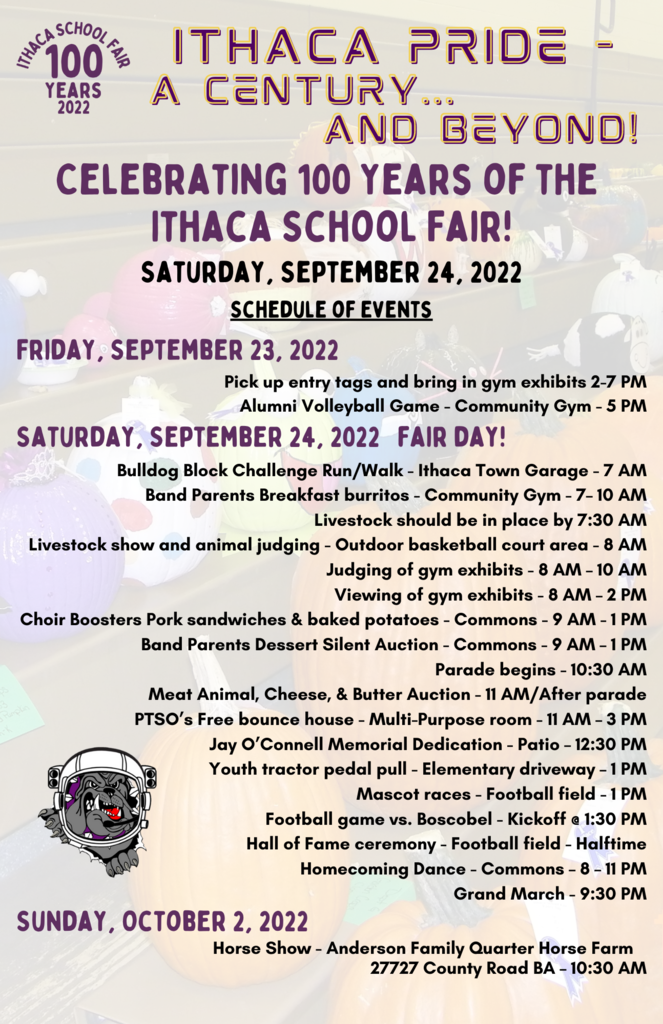 A message from Mr. Crawford: Reminder that there is an instrument testing night tonight for fifth graders interested in band! This will take place from 6-8 in the band room, and a representative will be here to talk through rental information.

If your child is showing in the Little Britches, please be ready to show at 9 AM on Saturday down at the livestock show ring by the old basketball court at the Community Gym area. If you have any questions, contact Annette Louis.

#IthacaHoCo - Throwback Thursday to 1979-80. Happy Homecoming everyone!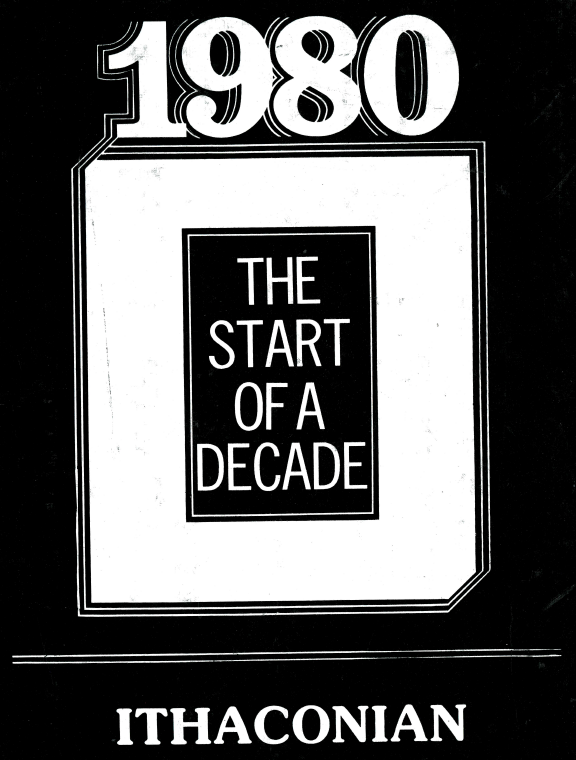 For all Class of 1987 Alumni! There will be a reunion on Saturday, September 24th from 6:00pm until 7:30pm at the Bowling Alley. We are also having a float in the parade if you'd like to join.

Learners Today, Leaders Tomorrow ANNOUNCEMENTS: Sept 22, 2022 Today is a Day 1 Lunch for today: First choice- Meatball sub, Second choice- Pizza, Peas, Peaches Dinner roll, and milk Great start to the dress up days, let's keep the school spirit going! On Thursday at 5 pm the Ithaca Student Council will sponsor the class game competitions. For those of you new or are freshmen students, the class games are friendly group competitions to foster class and team spirit. The games will start in the gym with boys volleyball at 5pm. Freshmen will play the juniors and sophomores will play against the seniors. Following that we will travel to the football field for the girls football game followed by class competitions, tug of war, and announcement of homecoming king and queen. Point totals are added up and the class with the most spirit points will get a pizza party hosted by the student council. The float counts as points so the announcement will be made with the grand totals on Tuesday of next week! High School Dress-up Days: Teachers are encouraged to participate as well! Thursday: Class Color Day - Freshman Pink, Sophomore Green, Junior Blue, Senior Black, Teachers Red; Friday- Ithaca Pride The dress code still applies- this means no hats! The Ithaca High School homecoming dance will be held September 24th from 8 to 11 pm in the Ithaca School Commons. Grand March will be held at 930 pm. Admission is $5 for students and $2 for spectators. Students must be dressed semiformally to be admitted into the dance. Middle School Dress-up Days: Thursday: Class Color Day - 6th Yellow, 7th Green, 8th Blue, Teachers Red; Friday-HOMECOMING BULLDOG PRIDE! (Purple, Yellow, White) The dress code still applies- this means no hats! Elementary Dress-up Days: Thursday: Class Color Day - 4K Purple, Kinder Red, 1st Blue, 2nd Green, 3rd Gray or Camouflage, 4th Orange, 5th Yellow; Friday: School Spirit Day. For High School students, if you are bringing a guest to the Homecoming Dance, please sign the guest up in the Office by noon on Friday. Teaching Assistants: 3 weeks of time sheets are due to Ms Schoen (with teacher signature) on Friday before you leave. Tonight is the night! Class games start in the new gym with boys volleyball at 5pm! Show your class spirit and come tonight! All students in the high school are encouraged to come and support each other! Games should be over around 8:30. Please have all donations for the choir meal brought to Mrs. Niemeyer in the choir room before or by Friday. All should be at school and ready to go by the end of the school day Friday. Freshmen should turn in their class dues to Mr. Crawford or Mrs. Thompson as soon as possible, please. Recently, there has been a new area created near the patio behind the school that displays personalized bricks that have been purchased by families, businesses, and alumni. This area will be dedicated to Jay O'Connell on September 24 at 12:30 for all of his support and commitment to the Ithaca School District throughout the years, Please respect this area by not walking on the bricks. We look forward to adding to this in the future as more bricks are purchased. Bricks can be ordered at
www.thatsmybrick.com/ithacawi
. Please reach out to Jenna Wipperfurth at
jenna.wipperfurth@ithaca.k12.wi.us
or call 608-585-2311 with any questions. Thank you! Caramel Apples are back! But it will look different this year. If you would like to purchase a caramel apple you need to see one of the FCCLA members, Ms, Stocks, or Mr. Crawford to put in a preorder. The apples will then be delivered to your attack room during attack time. NOTICE TO THOSE ON FREE OR REDUCED LUNCHES LAST YEAR: You have through October 1 to re-apply for the program. If you have not applied by October 1, it will be assumed you plan on paying the lunch fee starting Monday, October 3. If you apply and qualify, the reduced price is $.30 per day for breakfast and $.40 per day for lunch. This Day in History: On September 22, 1862, President Abraham Lincoln issues a preliminary Emancipation Proclamation, which sets a date for the freedom of more than 3 million enslaved in the United States and recasts the Civil War as a fight against slavery. Word of the Day: Defer, verb, means to choose to do (something) at a later time." 1/ She deferred her master's program for a year so that she could travel the world. Birthdays: Elementary—Adam Clancy H.S./M.S.-Kayden Coleman Ithaca After-School Events Football: MS vs. River Ridge (Away)


For those of you planning on attending the livestock show and animal judging, livestock should be in place by 7:30am. The order of the show will be: goats, sheep, swine, beef, and then dairy. The Little Britches show will follow.

The Ithaca Fair Committee wishes to extend their gratitude to the many sponsors who have assisted in making so many special details possible for the 100th Ithaca School Fair. Without people willing to share their time, talents, and treasures with their community, events like ours cannot be possible. Thank you.