FYI: The weekend winners in the Band Parent's Calendar Raffle were Becca Keller - $75, Marj Willis - $50, and Sharon Long - $75.
For the Five Days of Christmas, the Ithaca students and staff dressed up in holiday cheer.... Monday kicks off our week of holiday fun with Holiday Hat Day. Wear your favorite holiday hat, like a Santa hat, elf hat, character hat. We can't wait to see your creativity!!!
Choir students make sure to pick up your fruit from the annual fruit sale Saturday at Oakwood Fruit Farm from 8:00-10:30. Students must pick up by 10:30 Saturday morning.
Reminder! We have a way to report incidents/concerns... SAFE ALERT This system allows you to quickly, easily, and anonymously report safety concerns to school officials 24/7/365. Help us create a safer learning environment - to submit a tip, please click on the link:
https://ithaca-wi.safeschoolsalert.com/
Reminder to elementary students/parents: Please bring your Elf Shop money for next week's holiday shopping.
FYI: Thursday's winner of $50 in the Band Parent's Calendar Raffle was Becky Durst, with ticket #251.
In Level II Painting, the students can pick a class and paint a ceiling tile as "a gift" to that class. Andrew Mueller chose to do a Paw Patrol tile and present it to the 4-K classroom. :)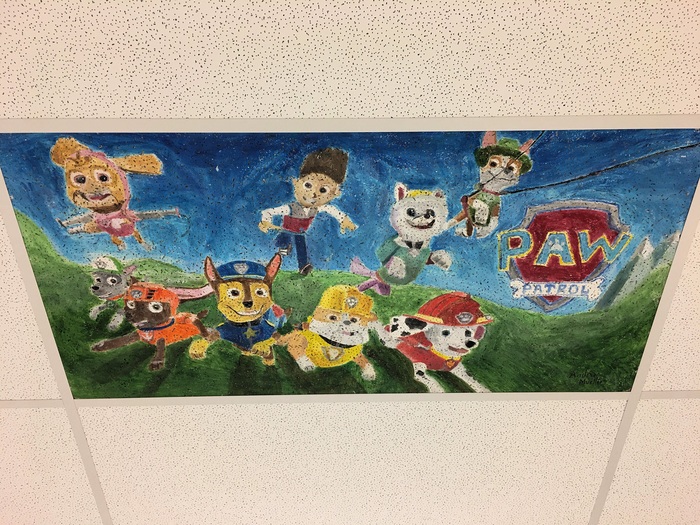 Notice to elementary parents: Tomorrow is the day we go to the School Forest. Please send children in appropriate attire. Hats, gloves, coats, snow pants, and boots. If you are unable to provide these items please let the teacher know ASAP. Otherwise, children that are not dressed appropriately will not be attending the school forest.
FYI: Wednesday's winner of $100 in the Band Parent's Calendar Raffle was Stacie Roen, with ticket #685.

Ithaca has a PLC Day today which means an early release for students. School will release at 1:10 pm this afternoon.

It's once again time for our Throwback Thursday memory. This group of seniors gathered money and food donations for Passages as part of the annual Ithaca Food Drive. What year did this group graduate?....and GO! (See it on Twitter, Facebook and on our APP and website LIVE FEED)
Notice! Tonight's middle school basketball practice is cancelled.

Ithaca apparel orders from Iverson Designs (PTSO) will be available for pick up on Friday, Dec. 14, from 3-6 PM in the Ithaca Commons. If you are unable to pick up at this time, please contact Jill Plonka to set up another time. Thank you!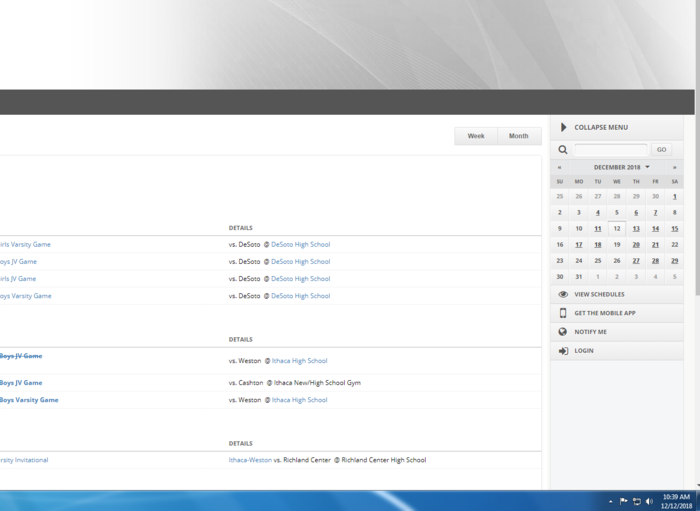 FYI: Tuesday's winner of $50 in the Band Parent's Calendar Raffle was Hailey Boon, with ticket #17.
The Ithaca FBLA is participating in a fundraiser for Dormco.com. Click on the link below to shop for your students dorm room, or for yourself! They offer a variety of home goods. Each Senior at Ithaca will be receiving a gift card towards a purchase. Any purchase made through this link
http://www.dormco.com/?Click=333164
Will result in a 10% return to the Ithaca FBLA chapter. Enjoy shopping!!
Notice! There will be a Winter Band Concert on Tuesday, December 18th at 2:00 pm, or as soon as the Elementary Concert gets done. Grades 5 - 12 band students will be featured.