FYI: Wednesday's winner of $100 in the Band Parent's Calendar Raffle was Stacie Roen, with ticket #685.

Ithaca has a PLC Day today which means an early release for students. School will release at 1:10 pm this afternoon.

It's once again time for our Throwback Thursday memory. This group of seniors gathered money and food donations for Passages as part of the annual Ithaca Food Drive. What year did this group graduate?....and GO! (See it on Twitter, Facebook and on our APP and website LIVE FEED)
Notice! Tonight's middle school basketball practice is cancelled.

Ithaca apparel orders from Iverson Designs (PTSO) will be available for pick up on Friday, Dec. 14, from 3-6 PM in the Ithaca Commons. If you are unable to pick up at this time, please contact Jill Plonka to set up another time. Thank you!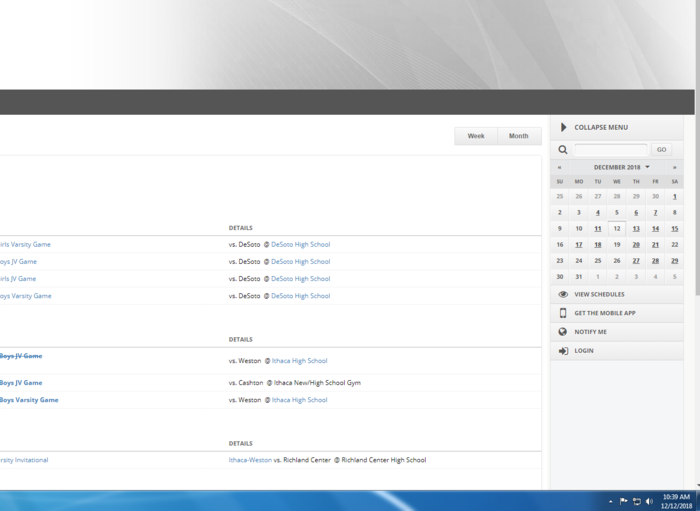 FYI: Tuesday's winner of $50 in the Band Parent's Calendar Raffle was Hailey Boon, with ticket #17.
The Ithaca FBLA is participating in a fundraiser for Dormco.com. Click on the link below to shop for your students dorm room, or for yourself! They offer a variety of home goods. Each Senior at Ithaca will be receiving a gift card towards a purchase. Any purchase made through this link
http://www.dormco.com/?Click=333164
Will result in a 10% return to the Ithaca FBLA chapter. Enjoy shopping!!
Notice! There will be a Winter Band Concert on Tuesday, December 18th at 2:00 pm, or as soon as the Elementary Concert gets done. Grades 5 - 12 band students will be featured.

Throwback Thursday is just one day away. We will post a pic from Ithaca's past, and we want you to guess the year. HINT: Tomorrow, we will be traveling back in time to look at a senior class that gathered donations of food and money for Passages.
NOTICE! Winter weather may cause issues... Please stay tuned to our FB page, our Twitter page, our app, WRCO radio, and the Madison television stations for the latest updates and announcements!
It's T-shirt night! Come show your support at the Wrestling Dual Meet tonight against Westby and get a free wrestling T-shirt while supplies last.

Be sure and join us on Thursday for another round of THROWBACK THURSDAY. We post the pic and you guess the year.
January "at a glance" calendar. May not be entirely accurate, so please keep checking the Events!
FYI: Monday's winner of $50 in the Band Parent's Calendar Raffle was Tim Ryan, with ticket #348