ENVIRONMENTAL EDUCATION LEADERS
A number of middle school students have volunteered to take on the responsibility of assisting teachers in providing lessons for elementary students at the Ithaca School Forest. These Environmental Education Leaders (EELs) plan and facilitate activities for ?School Forest Fridays? which are held once each quarter.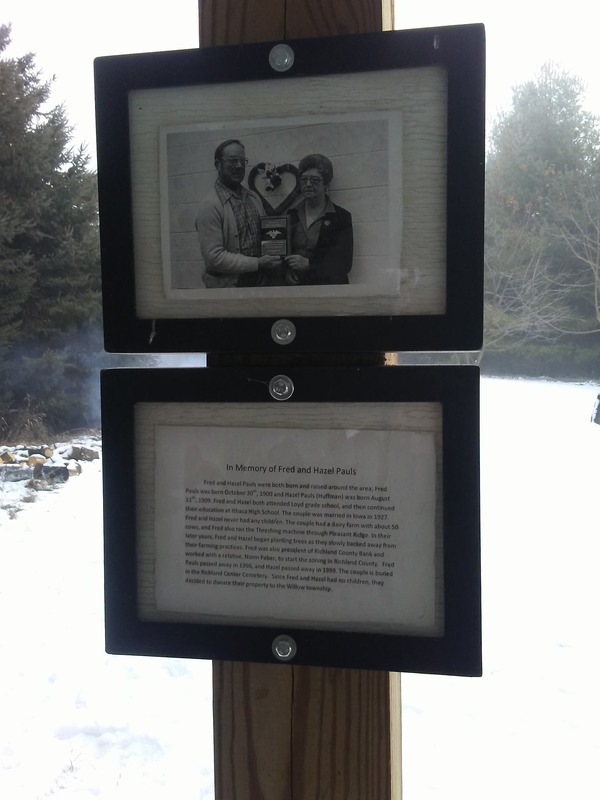 The Ithaca School Forest is owned by the Willow Community Foundation. The two entities (School and Foundation) entered into an agreement, in December of 2014, designating that the property could be used as a School Forest. The property had formerly been a tree farm owned by Fred and Hazel Pauls. The property is composed of 233 acres in Willow Township (Sec. 8, T11N, R2E). The topography is typical of the driftless area of Wisconsin, with steep hillsides, deep valleys and an occasional rock outcropping of dolomite. Former agricultural fields have been planted to red oak, walnut, spruce and pine. Hillside forests are composed of sugar maple, red maple, elm, paper birch, yellow birch, black cherry, shagbark hickory, butternut, red oak, white oak, ironwood, basswood, white ash, and aspen. Invasive autumn olive are scattered throughout the property. The property contains two small, shallow ponds. There is a large spring with a small creek formed from its flow.
The Willow Community Foundation has provided funding for a 20 x 50 foot shelter, a privy, picnic tables and a sign. The sign was installed during the spring of 2015. The other projects are scheduled to be completed during the 2016-17 school year. All projects were done by students. Plans for the future include a team challenge course, an amphitheatre and marked hiking and nature trails.
The entrance to the property is at 29604 CTH D. There is a house and a couple of older pole buildings near the entrance. A tenant resides in the house. The property is approximately 10 miles north and west of the Ithaca Public Schools.